We are very pleased to say that Bad Hotel, already known as one of the best credit crunch satire musical tower defence games on the iTunes Store, has been awarded a Scottish BAFTA for Best Game!
It's really exciting for our work to be acknowledged, and the awards ceremony was loads of fun too. We would like to thank Creative Scotland and Channel 4 for their support.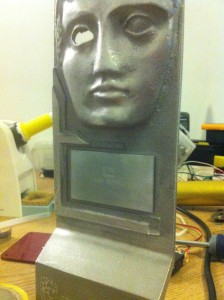 For now our shiny new award is on our award shelf (which doubles as soldering station). Hopefully there are more on the way!