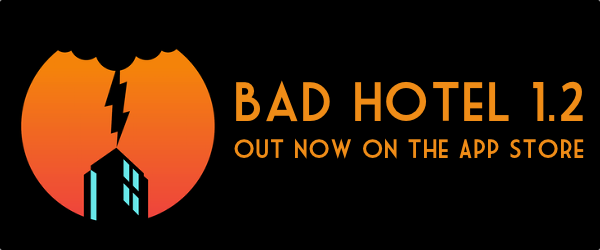 Bad Hotel was released one month ago. To celebrate our one month anniversary, we are pleased to today release Bad Hotel 1.2. The update includes the Game Center achievements and leaderboards, along with the much-requested placement improvements which make the game even better. Go get it now!
Additionally, we would like to share a few stats with you, which I will then discuss in a bit more detail. There's also a treat at the end of this, if you make it to the bottom…
So, what's it like releasing a game like Bad Hotel? In a word, it's been amazing. The reception and feedback we received was overwhelming, and to be honest we struggled a bit to cope (whilst still touring, producing our next game, helping to organise Music Hack Day Scotland, and many other fun things).
We also learned some valuable lessons. But first! Numbers!
Number of online/print reviews: 35
Number of promo codes used: 48
Number of promo codes sent to journalists or organisations that did not end up writing anything: 3
Total number of sales: 8,357
Total number of updates to version 1.1: 6,089
Total number of App Store Reviews (in major countries): 67
Total number of iTunes star ratings (US + UK) for version 1.0: 95

5 star: 45
4 star: 14
3 star: 12
2 star: 15
1 star: 9

Total number of iTunes star ratings (US + UK) for version 1.1: 21

5 star: 11
4 star: 8
3 star: 0
2 star: 1
1 star: 1

Rankings are complicated, but a few highlights:

We reached #2 in iPhone and iPad Music Games virtually everywhere in the world
We ranked between #50-70 in Games overall in most markets
We reached #101 in overall apps in the USA (and similar in most other markets)

As a general rule, these rankings held for about a week

Features!

We were featured in "New and Noteworthy" worldwide for two weeks (one week on the front page)
We also were featured in "New and Noteworthy" in the Games section in most countries for a week or two
In the Music Games section, we got a nice little graphical feature
That's a lot of numbers, time for some analysis.
Sales


We are, of course, very pleased with the number of sales. It's amazing to think that thousands and thousands of people are playing our game. There is no easy answer to why we sold this many copies, or indeed why we didn't sell more. But there are several factors that are hard to ignore. Two of the major elements to look at are reviews and features.
Reviews
"Bad Hotel is, in short, the stuff of wonderful nightmares: an eerie soundtrack, a menacing palette and an all-pervading sense of inescapable doom. Yet it's also one of the most original and atmospheric tower-defense games we've played all year…"
John Bedford, modojo.com
Our last game, Pugs Luv Beats, was very fortunate to be nominated for an IGF Award. It's hard to overstate how important this was for us – it was our first proper release as a "game" studio, and it brought us an enormous amount of coverage and attention from reputable news sources such as IndieGames.com, Gamasutra, 148Apps, and many more. This opened many doors for us, and as such we were able to be in direct contact with a number of wonderful people who liked appreciated what we were trying to do and asked us to keep them posted on our projects.
This gave us the opportunity to plan out a strategy for releasing Bad Hotel to the world. We were able to send out test builds to bloggers and journalists several weeks before we even thought about a release date, and they helped us tweak and polish the game. This piqued some interest and resulted in a few preview articles around the web, which raised awareness about our upcoming release. We decided to use the brilliant Presskit() interface to create a dedicated website for people wanting to write about the game, and we created a very simple promotional website (modeled off of some of our favorite apps, like Spelltower). The aim of this site was to describe the game in as few words as possible: Build Hotel, Make Music, Stop Tadstock. We made a ridiculous video featuring building demolitions, and that was that.

Finally, despite our own impatience, we submitted the app to Apple but set the release date far in the future. The plan was to get the app approved, and then get a specific release date that we could publicize.
I'm pretty sure that all of those decisions paid off and led to the amount of attention we ended up getting. Blogs in particular are really keen to talk about something that has just been released, but writing reviews takes time! We were able to send promo codes to everyone who expressed interest, allowing them to play the game and time up their posts to the release of our app. The reviews blew us away.
"…to understand how excellent Bad Hotel is, you need to play it. And you need to hear it…I like Bad Hotel so much I'd buy it for you. Get it. It's for iPhone and iPad. It's wonderful. "
Stephen Totilo, kotaku.com
"… you seriously need to check out Bad Hotel."
Cassandra Khaw, toucharcade.com
"Bad Hotel is a delicious treat for eyes, ears, and intellect. It's a delightful way to spend some time in a nice comfy chair, iPad in hand, with perhaps a glass of wine and fuzzy slippers upon the feet. Bravo to Lucky Frame…"
Rob LeFebvre, 148apps.com
"Bad Hotel has creamy, pastelly, Miami cocktail colours, art deco shapes, and a soundtrack of weird nightmare throbs and pulses…I really like this one…"
Christian Donlan, hookshotinc.com
"…an unlikely work of minimalist art."
– Nick Gillett, The Guardian
We couldn't have asked for anything better. Kotaku is one of the most popular websites for digital stuff on the internet, and though it's hard to measure direct correlation, I'm pretty sure that review alone accounted for a good chunk of our sales.
I should also point out that exactly 0 of the reviews that we received came from sources that we had contacted blindly. Every single one of them had expressed interest in either Bad Hotel or Pugs Luv Beats, and nearly everyone had been personally in contact with us about the app. Submitting the app to blogs that have "submit your apps for review!" sections is a waste of time. Cultivating professional and personal relationships with people who care about quality creative output is the only way to get good coverage. It's also a great way to meet extremely interesting people.
Features
This is where I would love to be able to say that Apple got in touch with us and said they loved our app and wanted to feature it. In reality, we had no idea that we were going to be featured. But I think one decision we made really helped us out – release date.
For some reason, it is common thinking in the developer world that Thursday is the best day to release an app. This probably comes from the fact that Apple refreshes their features on Thursday night, so the thinking is that you are more likely to be on their radar. In our experience, the reverse may be true – particularly for a tiny developer like us. We released Bad Hotel on a Tuesday, and generated an enormous amount of internet buzz on that Tuesday and Wednesday. I firmly believe that this buzz, and the accompanying sales, is what led to our feature. If we had released on a Thursday that buzz would probably not have reached the critical mass required to get on Apple's radar by the time they refreshed the list. In other words – our two-day release leadup to the features release in all likelihood propelled Bad Hotel onto the lists.
It is also common thinking that getting featured on the App Store will result in instant monetary reward. In our experience, it's a bit more nuanced than that. We certainly did not ever receive the same sales spike that we had on Day 1, but it is interesting to see how the dropoff slowed dramatically. Between Day 1 and Day 2 there was a 50% drop in sales – which was about what we were expecting. But between Day 2 and Day 3, when our "New and Noteworthy" feature started getting rolled out around the world, there was only a 20% drop, and by Day 4 we were nearly back to Day 2 sales figures. This held for a few days, and then dropped off again.

After one week of being front and center on the App Store, Apple moved us over so people had to scroll a menu to see the Bad Hotel icon. This led to another big drop in sales (scrolling is hard!). After another week we were no longer featured in most stores around the world, and our sales have now tailed off. We did get a significant bump in sales from a small review in The Guardian though, prompting Jon to declare that print media was not dead after all.
So what lessons can be learned from all of this? Being featured was great. Definitely. But even a subtle shift in how you are featured can make a really big difference, and the competition is fierce. We'd really like to be featured again, but then who wouldn't?!
Rankings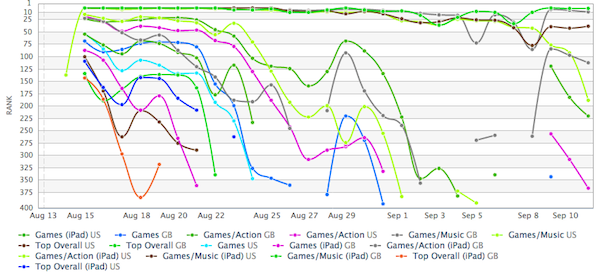 There's not too much to say about rankings, other than they are absolutely baffling. I'm very proud that we managed to consistently outrank the new Michael Jackson music game that came out the same week as Bad Hotel, but otherwise it is hard to gain much insight. One amazing thought, though, is that we were ranked 101st overall in the USA for a couple of days. With 700,000 apps on the store, that puts us in the 99.99% percentile of sales, which is pretty decent. More shocking, though, is the idea that this ranking was the result of selling just 2000 copies. This really proves that the logarithmic curve of sales in the top 100 is insanely steep. I shudder to think how many copies you have to sell to be ranking #10.
Mistakes
Without question, our biggest mistake was releasing Bad Hotel with a placement control system that wasn't perfect. Placing rooms quickly and precisely is a very important part of the gameplay, and (in classic game designer fashion) we got used to the system we made and couldn't see how difficult it was to use. Some of our testers had mentioned problems to us, and we fixed small things without addressing the fundamental issues. In our defense, programming a system for placing blocks on a core building according to finger position is harder than it may seem! But we really should have given it more time.
Interestingly, virtually all of the official game reviewers were able to look past this issue, resulting in our very high Metacritic score and complete lack of bad reviews. iTunes reviewers, on the other hand, were a bit more damning. Whilst our average star ratings remain very high, a small but very vocal minority took it upon themselves to savagely criticize the game, almost exclusively due to the placement controls.
We have, as mentioned, now addressed this issue with the 1.2 update (go download it!) but the damage is done. These negative ratings probably effected our sales and it was definitely very frustrating for us.
As a side note, the App store rating and review system is totally bonkers. We are certainly not the first developers to express this, but I really hope it changes at some point. The part the frustrates us the most is the inability to respond to reviews, or even contact the reviewers in any way whatsoever. For example, when someone gives us a 1 star review because it doesn't work on their iPhone 3GS, even though we tested extensively on that device we are unable to work out why it didn't work for them – and presumably we are losing sales due to their public airing of a problem which is unlikely to affect anyone else. One approach we have taken to addressing this problem is making videos called "Letters from the iTunes Mailbox", where we personally respond to some of these reviews.

The other main criticism Bad Hotel has received is that it is too hard. This is a much more difficult critique to address. Overall I think it comes from two places – expectation, and strategy. Gaming culture seems to have moved away from difficult games, and we see that as a tragedy. We don't plan on making our game any easier, because beating a game should be hard. End of story.
However, there are almost certainly design decisions we could make to help the players understand that there are different strategies to beating Bad Hotel. One problem we've often noticed is that players tend to settle into one way of playing the game, and when they reach a level that requires a different approach they consistently lose – without realizing that a different strategy will beat the level easily. We still haven't quite figured out how to guide the player to exploring different strategies, so that's something to work on in the future.
Conclusion
Go get the update! Also, I hope this analysis has given some insight into what it's been like to release Bad Hotel, and by extension what it is like to release a game into the App Store. And I promised a treat! If you haven't bought Bad Hotel yet, shame on you. But here are five promo codes for free copies. First come, first served.
NA367L4RKERH
3RX7XPFA7WP4
L4MYJA6WWAK9
6KT9YEHWPH6P
KFKMXNT3RTAK
Oh, and we are currently working on our next game, which is pretty different and amazing! We'll start talking about that soon…