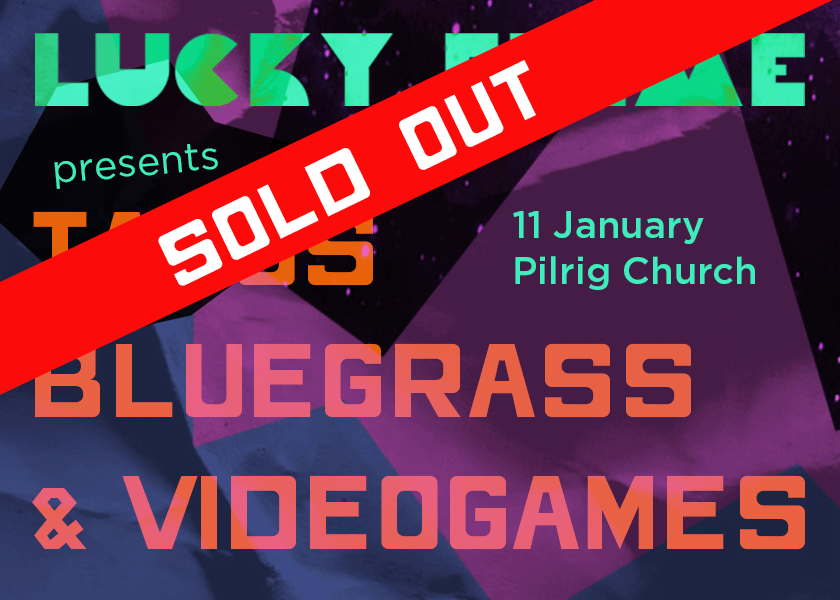 You may have already heard that we are putting on our very first event on January 11th: Tacos, Bluegrass, & Videogames. It will feature all three of those things, plus beer from Brewdog. For £5 you'll get tacos, beer, music, and awesome videogames. A pretty good deal, if I may say so myself.
You can read all the details on our dedicated site: luckyframe.co.uk/tacos/
It is being produced with support from the fine folks at Codeplay.
Putting together an event like this has been in the back of our minds for a while. We really admire what people like Game City, Bit of Alright, and Wild Rumpus are doing – putting videogames into unusual, fun, and exciting settings, encouraging innovation in game design whilst also making videogaming a bit more mainstream and socially acceptable. We feel that there is space to do something like that up here in Scotland.
Since Lucky Frame has a fairly strong American heritage, it only made sense to throw in a few elements from the motherland. Tacos are delicious, and folk music is designed to be accessible and fun – they seemed to us like the perfect combo (though we did consider Milkshakes, Hiphop, & Videogames).
When I wrote up a plan for getting the word out about this event, this blog post was designed to contribute to the push towards selling tickets. Quite amazingly, this has turned out to be unnecessary – we put the tickets up for sale on Monday and they all sold out in less than 48 hours, just from a few posts on Twitter. Social media wins! Thanks to everyone who bought tickets – we are really excited by the support and we can't wait to make this happen. Clearly, we are not the only ones who are hankering for some tacos and bluegrass to go with their videogames.
The number of tickets is somewhat limited because of the capacity of the venue, so we apologise to anyone who has missed out. We may be able to release a few more, but we would also encourage people to come by on the night. If there is any room we will definitely let you in, and if you can't get in we'll point you to a nearby pub.
We are still looking for a few more games to include on the night – if you are an indie developer sitting on an amazing game that would work well in a relaxed party setting, please send it along! We'd love to show it. If you're not sure that your game will be a good match, just get in touch and we can talk it over.
So, while this post no longer needs to perform the "buy tickets" function I had originally planned, it still has one important role: LAST CALL FOR SPONSORS. We want to print up posters for the event very soon, so if you want to get your name or logo on that poster, now is the time to act. Get in touch by Monday to be a part of TBVG – send us an email at info@luckyframe.co.uk. We'd love to have you on board.
More details will be announced soon, see you on January 11th.